Boarstall People
Sir John Aubrey ; Capability Brown ; Ena Child (née Burrill) ; Charles I ; General Lord Thomas Fairfax ; Mrs. Bertha Jennings-Bramley ; Vivien Leigh ; Edmund Rede ; Prince Rupert ;

Sir John Aubrey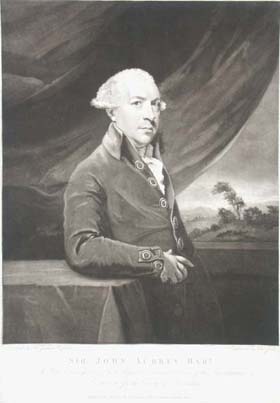 (Copyright Rob Dixon Collection)
(Digital photograph Rob Dixon, taken with Minolta Dimage 7i)
Sir John Aubrey, 6th Baronet, MP for Buckinghamshire, and lived with his first wife at Boarstall. It was they who demolished Boarstall House in 1778 when their only child died. They moved to Dorton House at Dorton, E. of Brill.

Lancelot "Capability" Brown
Capability Brown visited Boarstall twice and charged 15 gns. for his two visits. What work he recommended, if any, is not known.

Charles I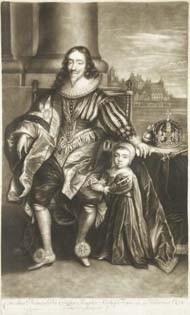 (Copyright Lennox-Boyd Collection)
(Digital photograph Rob Dixon, taken with Minolta Dimage 7i)
Charles I, seen here with his elder son, Charles II, visited Boarstall during the British Civil War, on 28th August, 1645, en route from Wing to Oxford.

General Lord Thomas Fairfax
Parliamentary commander, appointed head of the New Model Army on 21st January 1645.
On 6th June 1645, he attacked Boarstall without success, losing many soldiers.
The following year, in early April, he besieged Boarstall for about 8 weeks, the garrison only surrendering, on 6th June 1646, when they heard that Oxford was about to fall.

Mrs. Jennings-Bramley when a child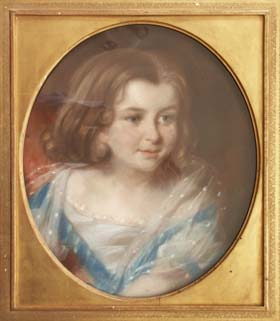 (Private collection)
(Digital photograph Rob Dixon, taken with Minolta Dimage 7i)

Bertha Jennings-Bramley (née Larking) rented Boarstall in 1925 because she was looking for a house with a large room for use as a music room. She was responsible for converting it into a house. Until then, it still had the original carriageway running through the centre of the building.

Vivien Leigh & Ena Child (née Burrill)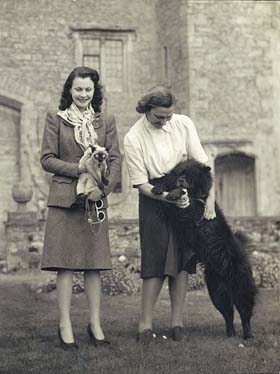 Vivien Leigh and her husband Laurence Olivier were regular visitors to Boarstall when it was let to Miles and Ena Child (Mrs. Child was the actress Ena Burrill). The Oliviers are also believed to have stayed at Boarstall before they purchased Notley Abbey near Long Crendon in 1943. Michael Redgrave also came and they were often to be heard rehearsing.
The window in Boarstall Tower immediately behind Vivien Leigh's head has an opening casement, but this had gone by 1999.

Edmund Rede
In his will dated 7th April 1487, Edmund Rede left directions that he was to be buried in the chapel of the Holy Trinity on the south of the church. The late 15th century altar tomb in the church of St. James, destroyed with the church during the Civil War, and salvaged afterwards, might be his.


Prince Rupert of the Rhine, Duke of Cumberland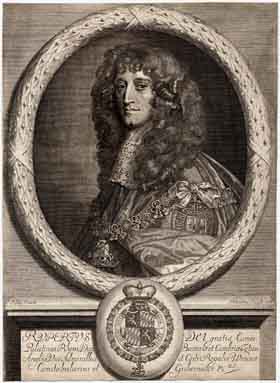 (Copyright Rob Dixon Collection)
Prince Rupert was a nephew of Charles I and a cousin of Charles II. He sent orders to the commander of the Royalist garrison at Boarstall on 13th February 1644, instructing him to fortify Boarstall.
He was a fine amateur engraver and introduced the method of mezzotint engraving to this country.